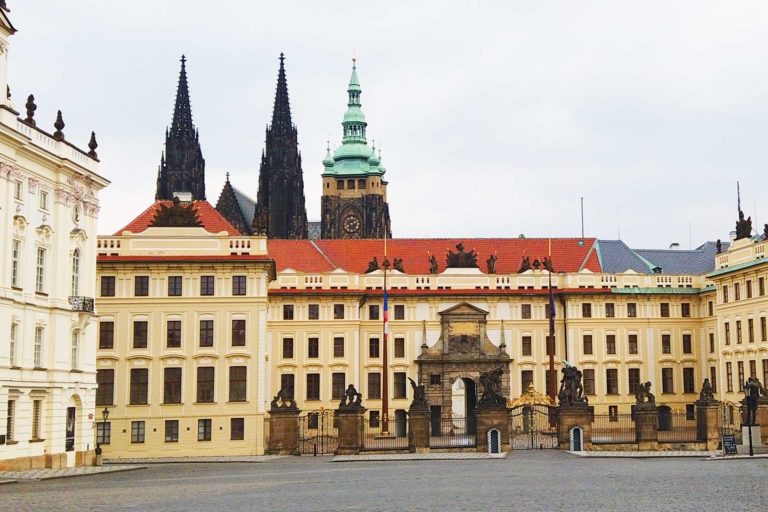 The Prague Castle, an ancient symbol of the Czech lands, is the most significant Czech monument and one of the most important cultural institutions in the Czech Republic. The Prague Castle was most likely founded around 880 by Prince Bořivoj of the Premyslids Dynasty (Přemyslovci). The Prague Castle is the largest coherent castle complex in the world, with an area of almost 70,000 m². A UNESCO World Heritage site, it consists of a large-scale composition of palaces and ecclesiastical buildings of various architectural styles, from Roman-style buildings from the 10th century through Gothic modifications in the 14th century.
The famous Slovenian architect Josip Plečnik was responsible for extensive renovations in the time of the First Republic (1918-1938). Since the Velvet Revolution, the Prague Castle has undergone significant and ongoing repairs and reconstruction. The Prague Castle complex consists of Saint Vitus Cathedral (one of the most recognized landmarks in Prague.
When Charles IV acquired the bones of St. Vitus, a popular fourth-century martyr, and brought them to Prague, the city became a center of the St. Vitus cult.), viewing towers (Several round towers were built along the walled castle – Daliborka, Powder, White etc.), museums and art galleries, a monastery, Golden Lane (a small picturesque street with colorful wooden houses. Legend wants one to believe alchemists attempted to turn metal into gold here, but in fact the alchemists lived elsewhere at the castle. It was actually goldsmiths living here in the 17th century who gave the street its captivating name.), several palaces, including Lobkowicz Palace, and St. George's Basilica; the latter being a popular venue for early evening classical concerts.