10 Foods to Try in Prague
For those who are going to visit Prague, we have prepared a list of most famous 10 foods to try in Prague, most popular dishes of Czech cuisine, which you should definitely try during your trip.
Check this list, and even if you're only in Prague for the weekend, plan ahead what you want to try, because Czech cuisine is very hearty and it would be a shame to miss the best.
Created: 2022-01-27, last modified: 2023-02-06
1. Beer (Pivo)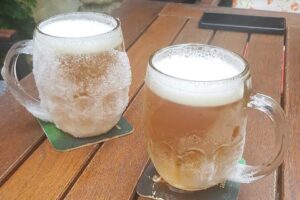 It's no secret that the Czech Republic is a country of beer. That's why we put beer at the top of our hit list of 10 foods to try in Prague.
Currently, there are more than 500 breweries in the Czech Republic: 6 industry giants, 29 independent breweries, as well as 480 mini-breweries, including restaurant breweries.
Most beers in the Czech Republic are not too strong, so locals can afford beer not only in the evening, but also have a mug at lunchtime.
In addition to the usual light beer, highly recommended to try black beers such as Kozel and Bernard. Black beer in the Czech Republic is quite different from the well-known black Irish beer, so if you haven't had a chance to try it yet, be sure to do so.
Where to try a beer? Almost in every restaurant or pub. This photo was taken in a restaurant located right next to our office, just in 200 meters from the Charles Bridge – Restaurace El Centro
2. Pork, Dumplings and Sauerkraut (Vepřo-knedlo-zelo)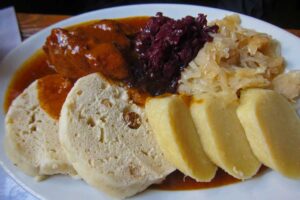 Czech Vepřo knedlo zelo is widely recognized as the national dish, the most typical food in Czech Republic, pork roast with dumplings and Sauerkraut (sour cabbage), which consists of three parts served together on a plate.
It's still a lot of meat and carbs, but when done well, it can seem lighter than some of the other meat and gravy dishes that are popular here, perhaps due to the cabbage, which adds a subtle sweetness to the plate. Plus, it's a vegetable – always a welcome addition to a Bohemian meal.
In fact, this is not one particular dish, but a collective name for a group of dishes that may differ in terms of the meat, the type of dumpling (bread or potato), as well as the cabbage. The cabbage can be blue or white, a little sweet or a little more salty, but definitely stewed for a long time, and therefore very soft.
Where to try Vepřo-knedlo-zelo? As stated above, this is a group of dishes. At the same time, in the restaurant Potrefena Husa you will find several variations of this wonderful dish.
3. Steak tartare (Tatarák)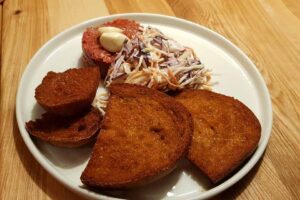 Steak tartare is very popular in the Czech Republic and can be served in a variety of variations. There are many recipes for steak tartare made with real tenderloin. The most popular in the Czech Republic is steak tartare made with minced or ground beef. Traditionally served with black bread toast and garlic. Sometimes, with a salad added.
Please note that in the Czech Republic, chefs usually mix meat with onions and seasonings in advance. If you prefer to mix it yourself, trying different proportions and combinations of seasonings, then you should warn the waiter about this when placing an order: Nemíchejte! (Don't mix!)
4. Pork knuckle (Vepřové koleno)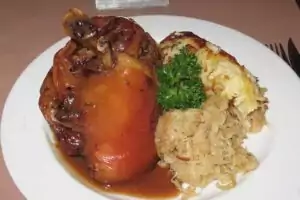 Tourists from all over the world come to the Czech Republic to eat packs of roast pork knuckle in restaurants and pubs. Traditional Czech cookbooks published in foreign languages list it as one of the Czech national dishes, but even that is not enough reason to start looking for roast knuckle as soon as you arrive.
First of all, pork knuckles are not pork trotters (feet)! Despite the name, they are actually the fleshy upper part of the pork leg. Pork knuckles are called variously: pork knuckles, pork legs, pork legs and ham hocks (which also refers to smoked or smoked legs).
Any work of art from two hundred years ago or more depicting a manor feast also contains the atmosphere of that moment when you stick your fork into that perfectly baked knee.
Where to try Pork Knuckle? The suggestion is go to one of Kozlovna restaurants, owned by Kozel brewery. The closest to the city center is one on Křižovnická 4, it's located in just 2 minutes walking from the Charles Bridge.
5. Garlic soup (Česnečka)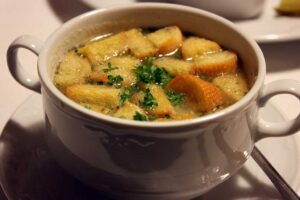 Garlic soup is the most popular soup in the Czech Republic. It can be found in almost every restaurant or pub. It is simple, inexpensive, and delicious.
Cooked in beef or pork broth, with the addition of cheese, smoked meats, and, of course, garlic, garlic soup makes you salivate just by its aroma. It is served with croutons, which you pour into the soup yourself.
Most often, potatoes are also added to the garlic soup to thicken it.
Where can I try garlic soup? At any nearby eating place.
6. Chicken Wings (Kuřecí křídla)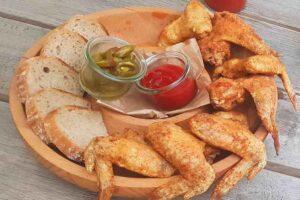 What kind of chicken wings do you like? We can assume that Czech wings will be the most delicious, making your trip to Prague unforgettable!
Tender, juicy meat inside, falling off the bone freely, because there are plenty of bones. The skin, which is abundant on all sides on this type of meat, should be fully baked, thin, with little blisters to prove that it can't get any better, and of course, crispy as possible.
In Bohemia, they like the marinade for chicken wings to be savory, sweet and salty, because it is the sugar that makes the wings sticky on the surface and is behind the proper anti-social pleasure of the meal.
What could be better than beer wings? That's right, only wings and a beer!
Where to try Chicken Wings? Chicken wings are available in almost every restaurant in Prague.
One of the best chicken wings you can find in the Strahov Monastery brewery on the top of the Petrin hill. It's not easy to climb there but if you going on 2 or 3 hours tour provided by Prague Segway Tours, you will have time to get relaxed there.
7. Beef goulash (Guláš)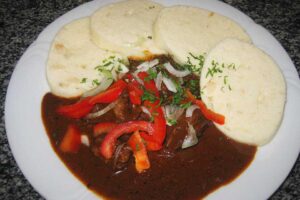 This hearty and meaty stew, which came from Czech neighbors the Hungarians, has become a staple dish in Czech cuisine. And not surprisingly, the Czech beef goulash with dumplings is usually served with bread or potato dumplings (houskové knedlíky, bramborové knedlíky).
If you are very lucky, you can also find venison goulash. This is a particularly delicate dish, with a subtle aroma and delicate flavor.
8. Sirloin in cream sauce (Svíčková na smetaně)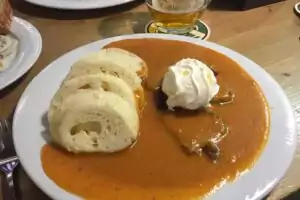 Although it was named after the piece of meat with which it was traditionally served, that is, beef tenderloin, it was originally found in combination with rabbit, in the classic cookbooks of the First Republic with pork tenderloin, and with minced roast meat. But one rule remains firm – a good sauce for sirloin must be creamy, beige in color, and with a perfectly balanced sweet flavor. Moravian dumplings are served as a side dish.
Nowadays, beef tenderloin is served only in exceptional cases; the standard for this dish is pork tenderloin. The soft, tender meat pairs perfectly with the creamy sauce, and the dumplings help you not to leave a single drop of gravy on your plate.
Where to try Sirloin in cream sauce? Just a 2-minute walk from the Old Town Square in Prague you will find V Kolkovně restaurant on the street of the same name.
9. Goulash in a Bread Bowl (Guláš v chlebu)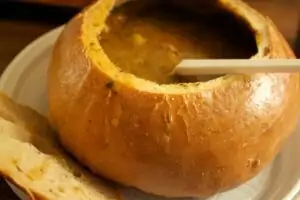 Goulash in a bread bowl (Karlovarský guláš v chlebu) is a bit like the aforementioned beef goulash, but it is more like soup.
There are no dumplings inside, but you will find potatoes and another seasonings, according to aroma. By the way you can eat the whole bread, if you can.
Where to get Goulash in Bread? By our experience, one of the best Goulash Served in Bread in Prague you can get in Pivnice Štupartská
As we made a list of 10 foods to try in Prague for you, also we have to point that the same Goulash soup could be in the regular bowl (not in bread), and it's no worse, sometimes even better. This goulash we suggest to try in the restaurant U Maltézských rytířu (English translation is "At the Knights of Malta"), which are located in only 100 meters from prague-segway-tours.com office. We can heartily recommend this restaurant for authentic Czech cuisine and probably the most delicious goulash in Prague.
10. Moravian Sparrow (Moravský Vrabec)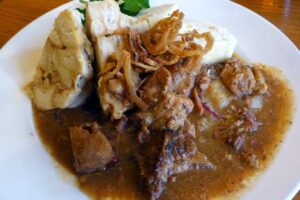 This is definitely one of the best national dishes. It is actually roast pork served with sauerkraut and potato dumplings, so it's a bit similar to Roasted pork (Vepřo knedlo zelo).
Literally translated as Moravian sparrow, this dish is a common main dish that you can order in almost every traditional Czech restaurant. It originated in the Moravian region and thankfully does not contain sparrow and is often made from pork thigh! The other main ingredient is sauerkraut, which is almost as popular in the Czech Republic as it is in Germany.
10 Foods to Try in Prague
1. Beer (Pivo)
2. Pork, Dumplings and Sauerkraut (Vepřo-knedlo-zelo)
3. Steak tartare (Tatarák)
4. Pork knuckle (Vepřové koleno)
5. Garlic soup (Česnečka)
6. Chicken Wings (Kuřecí křídla)
7. Beef goulash (Guláš)
8. Sirloin in cream sauce (Svíčková na smetaně)
9. Goulash in a Bread Bowl (Guláš v chlebu)
10. Moravian Sparrow (Moravský Vrabec)