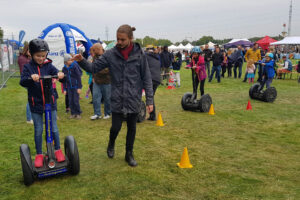 Are you visiting Prague with a friend, partner or family member that is having a birthday? Are you celebrating an anniversary? Finding something special, a fantastic surprise is not so easy but our team of Prague Segway Tours has a tip – rent a Segway for that special occasion.
Your trip will become unforgettable on Segway and it's easy and fun riding through all the main sightseeing areas and much more. By Segway, it's possible to discover secret places you wouldn't see on foot – an amazing combination of tour – from down by the Vltava River to the top of Petrin hill and Prague Castle.
We are ready to prepare a voucher for your choice of tour including a card to mark the occasion. We can even prepare to have cake in the middle of your ride if you'd like. Give an experience that is the best ever. Choose one of our tours and create own memorable gift!