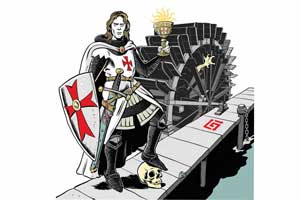 Treasure hunt and escape outdoor game were never more such a fun.
Try to discover the nature of a relic that is the elixir of life and the philosopher's stone. According to the legend, the Holy Grail is found in the ruins of Solomon's Temple by Templar Knights in the twelfth century. Later was this secret hidden by Maltese knights in the very center of the world, on the island of Kampa in Prague.
Walk in their footsteps and maybe that Kampa will show you the secret of the Holy Grail.
Pick one of our games here or see further how it works.